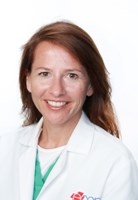 Cynthia Bowers-Lee,
M.D., FAAEM
New Hanover Regional Medical Orthopedic Hospital
Dr. Bowers-Lee received her Bachelor of General Studies from the University of Michigan College of Literature, Science, and Arts in Ann Arbor, Michigan, and her Doctor of Medicine Degree from the Medical College of Ohio in Toledo, Ohio. Dr. Bowers-Lee completed her residency at Ohio State University Medical Center in Columbus, Ohio and is board certified in Emergency Medicine.

Dr. Bowers-Lee joined Eastern Carolina Emergency Physicians in January 2005 and her primary practice location is New Hanover Regional Medical Orthopedic Hospital (formerly know as Cape Fear Hospital).

Dr. Bowers-Lee's hobbies include boating, running, hiking, and spending time with her husband, Jeffrey, and their family.
---